The Truth behind some common Breast Cancer Myths
03/23/2022
Over the years, the fear of getting infected with Cancer has remained the same. It is still considered to be fearful amongst all other diseases. Out of all the categories of Cancer, breast cancer is one such kind that is most likely to occur in women and rarely in men. It happens when some breast cells start growing abnormally, divide rapidly and accumulate to form a lump or mass. There are various cheap breast cancer drugs that are readily available in the market to help fight the disease if diagnosed in the initial stage.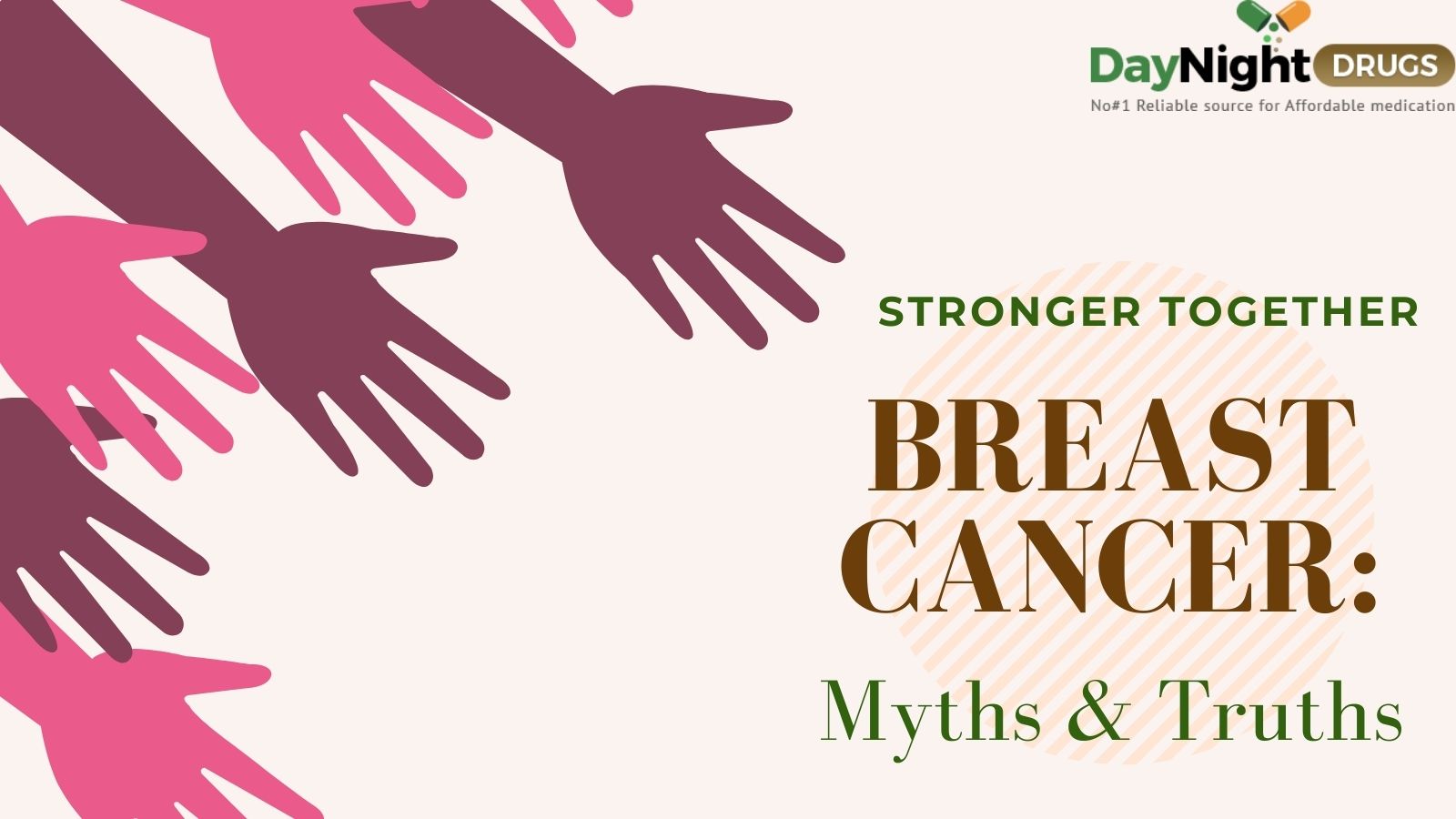 Read more to know the truths behind the myths that will knock-your-socks-off. 
1. MYTH: - Women without a family history will not have breast cancer. 
TRUTH: - The majority of women diagnosed with breast cancer do not have any family history of the same. Hence, it clearly states that breast cancer can occur in women who may or may not have any family history. 
2. MYTH: - Under-wire bras and underarm antiperspirants can cause breast cancer.
TRUTH: - No reports or evidence has been found to date stating that using antiperspirants or under-wire bras can cause breast cancer.
3. MYTH: - Breast cancer is more likely to occur in young women. 
TRUTH: - Breast cancer can occur in any woman, regardless of age group. However, 95% of the cases occur in women aged 40 and above.
4. MYTH: - Mammograms are painful and unsafe.
TRUTH: - Mammography is the best technology to detect breast cancer in its early stage. The modern mammography equipment is designed to minimize the degree of discomfort and make the process very seamless. 
5. MYTH: - Having silicone breast implants increases the risk of breast cancer.
TRUTH: Though silicone breast implants may cause scar tissue formation in the breast, but as per several studies, they do not increase the chance of breast cancer. 
6. MYTH: - An injury to the breast may cause breast cancer.
TRUTH: - Any trauma or injury to the breast will not cause breast cancer. However, the damage may draw attention to an already present breast lump. 
7. MYTH: - Breast cancer is responsible for killing more women than any other disease. 
TRUTH: - Although breast cancer is a significant health concern, but as per reports, more American women die due to lung cancer and heart disease. 
8.  MYTH: - Only women can get breast cancer.
TRUTH: - Breast cancer is more common in women than in men. Nevertheless, men too have breast tissue and can also develop breast cancer.
9. MYTH: - Maintaining a healthy body weight, practicing routine exercise, sticking to a balanced diet, and maintaining a wholesome lifestyle will not cause breast cancer.
TRUTH: - Undoubtedly, the factors mentioned above can help lower the risk of developing breast cancer; but they cannot stamp out it. 
The journey of battling Cancer isn't that easy. Apart from the treatment, it takes a lot of courage to strive through it. If you or anyone close to you has Cancer, be the first one to educate them about the truth behind these myths. Calm yourself down and be patient with the process; you will pass through it soon. 
You can also buy Generic & Over The Counter breast cancer medications online from our pharmacy. Click on the link to place your order:- https://bit.ly/3uUDhLB.