Stromectol: Best medicine for Roundworm Infections
01/13/2022
Roundworm infection is a parasitic illness in which an organism lives in the body of another creature (human) and results in various health issues such as intestinal blockage, nutritional deficiency, dust blockage, etc. This parasitic worm infection is mainly caused due to unsafe food and water. Hence, it is preferred to carry your food and water whenever heading out. Such infections can easily be cured with some fundamental lifestyle changes and medications for roundworm infections.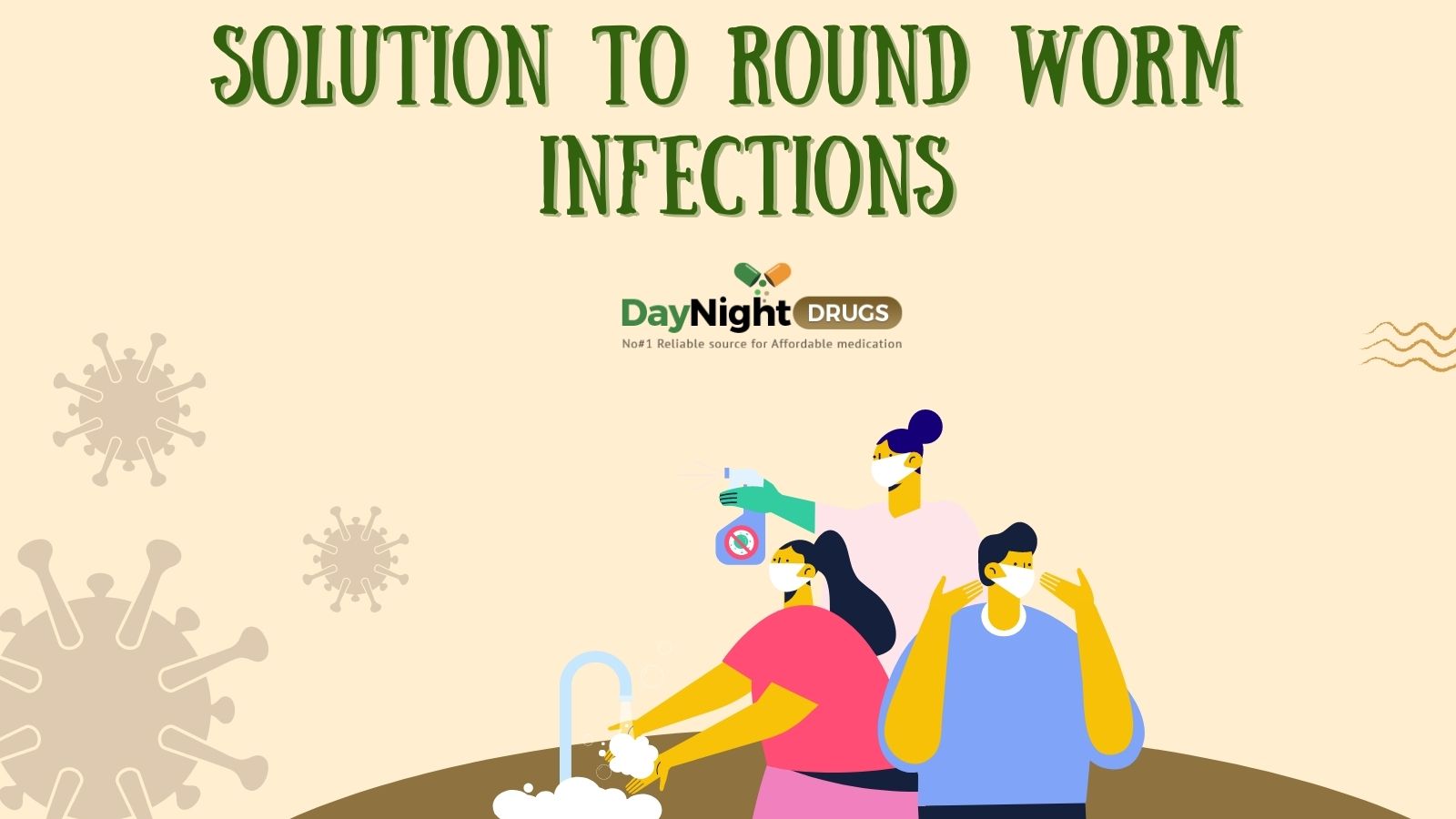 So, before we head towards the treatments and measures, it's essential to know the causes and symptoms of the infection. 
Causes
The below-mentioned are the causes of roundworm infections: -
Lack of hygiene and proper sanitation
Unsafe food and water
Living in or a visit to a tropical or sub-tropical climate.
Use of human feces for fertilizers
Exposure to a dirty environment
Consumption of unfiltered water
Symptoms
There are no symptoms for roundworm infections in the initial stages. Symptoms start appearing when the infection spreads. 
The below-mentioned are the signs and symptoms of roundworm infections in the lungs: -
Coughing or gagging
Breathing problem
Discomfort in the chest
Fever
Blood in mucus
The below-mentioned are the symptoms of roundworm infections in the intestines: -
Nausea
Vomiting
Loss of appetite
Weight loss
Visible worms in the stool
Diarrhea
Irregular stool
Discomfort in the abdominal area
Intestinal blockage
Growth impairment in children due to malabsorption
Treatment and Measures
Roundworm infections don't require any clinical treatment for the initial stages. Although, you might need surgery if the patient's condition worsens. The below-mentioned are the treatments/measures that you can follow to prevent/treat roundworm infections: -
Maintain a clean environment: - 
Always try to maintain a healthy and clean environment around you. Essential habits such as washing hands with soap and water before handling food, cleaning the washroom regularly, dumping off wastage only in the garbage dump, and others can take you a long way to lead a healthy life.
Dine only at reputed places: -
Try to avoid eating at roadside stalls. Most often, the food there is exposed to dirt, dust and becomes a feeding place for flies and insects. Hence, it's always better to dine only at reputed places to maintain hygiene. 
For quick relief from roundworm infection, you can opt for medications such as Stromectol 12mg tablets generic or Ivermectin 12 mg tablets. You can buy these medicines online and can save a lot. 
Maintaining kitchen hygiene is just as crucial as maintaining modern sanitation. Wash fruits and vegetables before eating, keep an eye on the sewage system, use a covered dustbin, etc.- these basics can maintain a healthy kitchen and keep you and your family away from roundworm infections. 
Modern sanitation system: -
Modern sanitation is a basic need for leading a healthy life. A blocked sewage system is a breeding ground for mosquitoes and can start a lot of infections. Hence, it is vital to maintain a modern sanitation system as a sign of a healthy lifestyle.
Conclusion: -
 Infections are usually caused due to contamination and exposure to an unhealthy lifestyle. Stay neat and healthy, and you are all safe from unwanted infections and diseases. A healthy lifestyle is not a one-day job. It takes a lot of consistency and effort to maintain one. Hence, stay fit and let the infection fly away..! 
Click on the link to place your order: - https://bit.ly/3OxqPJw.